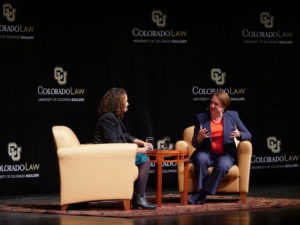 On October 22, 2019, Justice Elena Kagan sat down with Professor Suzette Malveaux, director of the Byron White Center for the Study of Constitutional Law, for the Eighth Annual John Paul Stevens Lecture. (Text of the full lecture can be found here.) What made Justice Kagan's visit to Colorado Law particularly special was the opportunity for her to honor her predecessor on the bench—the namesake of the lecture series—only three months after the country lost him at the age of ninety-nine. In 2011, Justice John Paul Stevens was invited by his former clerk and then-director of the White Center, Melissa Hart, to serve as the inaugural lecturer of the White Center's judicial lecture series.[2] The reason for Justice Stevens's invitation was a conviction he shared with Justice Kagan: the law and society are best served when there is robust debate from diverse perspectives.[3]
It was appropriate, then, in the year of Justice Stevens's passing, for his legacy at Colorado Law to be carried on by the justice responsible for taking his seat on the Supreme Court. Justice Kagan has expressed that "perhaps more . . . than anyone, [she has] thought about the enormity of Justice Stevens's shoes, and the impossibility of filling them."[4] What she recalls most fondly about Justice Stevens was that he appreciated and understood that there was much to learn from others, and that the powerful and powerless were entitled to the same dignity by the Court.[5] It is from this foundation that this Article is written. Although it may feel impossible to fill the shoes of Justice Stevens while taking his seat on the bench, Justice Kagan has demonstrated that she is able to carry on his legacy, particularly as it pertains to a philosophy that supports a deliberative form of democracy. A deliberative democracy envisions public participation in democratic processes and decision-making, where all participants are on equal footing, and the experiences, values, and informed consent of all, is taken into consideration.[6]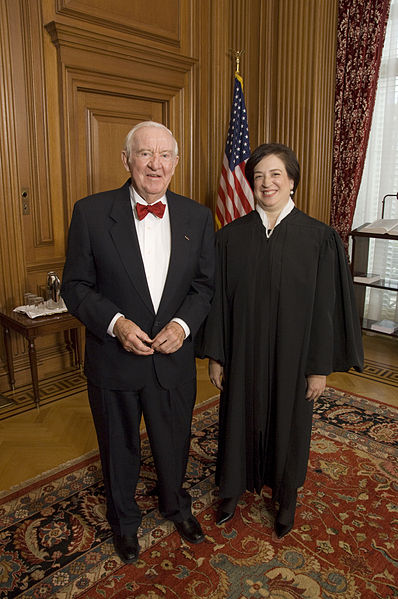 According to both Justices Kagan and Stevens, the Court's most urgent and fundamental duty is to uphold the tenets of our democracy and that the power of our nation should lie with "we[,] the people." [7] Driven less by anger and more by "deep sadness," as she told the room at Colorado Law, Justice Kagan dissented in Rucho v. Common Cause to call-out what she saw as the Court's failure to fulfill this responsibility.[8] Similarly, Justice Stevens felt that the majority in Citizens United v. Federal Election Commission failed to play its "vital role in ensuring that elections remain at least minimally open, fair, and competitive," insisting that the Court "disregard[ed] [its] constitutional history and the fundamental demands of a democratic society."[9]
The weight Justices Kagan and Stevens place on the importance of maintaining—and indeed even creating—fairness in the democratic process is most clear in their dissents, where they warned the public of the harmful outcomes that will occur as a result of the Court's actions (and inactions). Both Justices—in their criticism of partisan gerrymandering and corporate money in campaigns—are explicitly concerned with an exacerbation of the already perceived lack of integrity in our democratic systems. Justice Kagan has warned that partisan gerrymandering "drive[s] voters away from an ever more dysfunctional process" and "helps create the polarized political system so many Americans loathe."[10] Justice Stevens—a man who Justice Kagan described as deeply believing the poor deserved the same protections and rights as the most powerful[11]—was most concerned about the effect of Citizens United on "ordinary citizens" believing "in their capacity . . . to influence public policy."[12] He left the bench concerned that denying Congress the "authority to regulate the appearance of undue influence" would result in cynicism that could decrease the willingness to engage in our democracy.[13] Justice Kagan and Stevens's apprehensions are not unfounded. Many scholars acknowledge that the shift towards the "domination of powerful and wealthy voices" is resulting in an increased apathy and lack of faith in democratic processes.[14] These concerns make drawing attention to the jurisprudence of Justices Kagan and Stevens—two loud voices in safeguarding the power balances in the democratic process—so that it is understood and remembered.[15]
Though there are differences, the similarities between the jurisprudence of Justice Kagan and her predecessor are worth honoring. There are several themes that guide Justices Kagan and Stevens's jurisprudence in cases regarding the democratic process: the importance of preserving power with the people, the First Amendment's function in promoting greater political participation, living constitutionalism, pragmatism, and building consensus. Unlike most appointments to the bench and their predecessors, Justices Kagan and Stevens had the unique opportunity to exhibit some of these qualities together in critical moments before the torch was passed. In Justice Kagan's first appearance before the Supreme Court, as Solicitor General of the United States, she appeared before a bench that included Justice Stevens.[16] The exchange[17]—which is also a good example of Kagan's famous sense of humor and Stevens's thoughtful questioning—highlighted some of what of then-Justice Stevens and future-Justice Kagan have in common: appreciating the use of narrow decisions to build consensus, the responsibility of the Court to protect the space for different viewpoints in the democratic process, and their pragmatic approach to the law.
This Article attempts to decipher Justice Kagan's democratic-process jurisprudence, and does so juxtaposed against her predecessor's legacy. It describes how her work on the Court has largely built on and continues the groundwork laid by Justice Stevens in reminding the public of the importance of their voice in upholding our nation's democratic values. Because of the significance the justices themselves have attached to the writings, the Article relies extensively on Justice Kagan's dissent in Rucho and Justice Stevens's dissent in Citizens United to unpack several qualities and philosophies that are prominent in their jurisprudence. Part-I delves into the pragmatism of Kagan's jurisprudence—a quality shared by Justice Stevens—that arguably plays a large role in how she sees the First Amendment, the democratic process, and her role as a justice. Part-II discusses Justice Kagan's First Amendment jurisprudence, arguing that she follows what is termed "affirmative First Amendment theory," and how it aligns with Justice Stevens's First Amendment views. Part-III sheds light on Justice Kagan's understanding of her role on the Court, the Court's relationship to the Constitution and other branches of government, and her fundamental belief—shared with Justice Stevens—that the Court's role is to protect the tenets of our democracy. Last, this Article highlights facets of Justice Kagan's practice (seemingly taken from Justice Stevens's playbook) that is perhaps the boldest embodiment of her commitment to the democratic process: building consensus to maintain the integrity of the Court and mold the future of the law.
Throughout the article, the reader has the opportunity to compare the described practices and theories of Justice Kagan to Justice Stevens by clicking drop down titles in bold like this:
Democratic Pragmatism: Incorporating Reality and Providing Access
When Justice Kagan was appointed to the bench, she asked Justice Stevens for any advice he might offer.[18] Despite his hesitancy to give any advice at all (Kagan describes him as "a very humble man"), he finally offered a small but impactful piece: "I think the best thing I ever did was that I tried to learn something new every single day I was on the court."[19] Kagan told the audience at Colorado Law about the impact this has had on her time as justice, and professes that the best way to be a judge is "to just think about all the things you have to learn, and to go out and learn them."[20] Justice Stevens held his commitment to learning as the highest of responsibilities, a tradition Justice Kagan has taken very seriously. It follows then, that the jurisprudence of both justices revolves around pragmatism.
This Part begins by defining pragmatism as a legal theory and as an expression of a jurist's commitment to learning. It further relies on Justices Stevens as an example of a pragmatic jurist in explaining why and how Justice Kagan's jurisprudence could be described as pragmatic. Because pragmatism is central to the public's understanding of the Court and its role in their lives, this Part then outlines how Justice Kagan's approach to opinion writing—largely defined by her tenure as an academic—is a fundamental element of her pragmatic jurisprudence as it provides the general public with access to the law.
Pragmatism is a practical approach to the law that appreciates strict adherence to legal doctrine, but sees legal doctrine as "less important than the practical consequences of a judicial decision."[21] The approach is primarily concerned with the real-world impact of law, relying largely on "common sense, a respect for stare decisis, and a sense of social needs."[22] The ability to see the practical impact in the lives of ordinary people requires taking the time to truly understand the plight of a litigant—a unique exercise in learning and changing one's perspective. So, when a justice makes learning new information and changing one's perspectives such a high priority, it is inevitable that the material will end up affecting one's understanding of law, taking a part in the outcome of cases, and playing a major role in the writing of the justice.
It is without a doubt that Justice Kagan's pragmatic approach to the law stems from her tenure as an academic. In discussing the challenges and growth she experienced as a dean, Justice Kagan said she mostly learned "that you can never do too much listening to people because it turns out you learn a lot by listening," and that "you don't start by knowing everything."[23] She believes she was respected because she listened, and because she was willing to change her mind when faculty convinced her that she was wrong. Justice Kagan also believed that her deanship benefited her through lessons in "prudence and judgment":
[W]hen you run an institution with [ ] many, many employees, with a big budget . . . lots of the kinds of problems that . . . come across your plate every day, [ ] you exercise a lot of muscles . . . that I had never exercised before, and it gave me grounding in a lot of things that I otherwise would not have had grounding in. And it made me [ ] very aware of other people, I think, in a way that maybe I would not have been had I been just a professor all my life, because so many people come to your office with just life problems, and you get exposure to [ ] so many different sorts of issues that people are struggling with and that people are confronting in their lives, and it becomes a little bit your life, too. And [ ] I hope that that made me a better person.[24]
Justice Kagan also shed light on how she perceives learning in the role of a justice during her confirmation hearing, before even receiving such advice from Justice Stevens. In her hearing, Senator Grassley raised concerns about her deference to foreign law because, as dean of Harvard Law, Justice Kagan amended the first-year curriculum to include international law.[25] He asked, "Should judges ever look to foreign law for 'good ideas'? Should they get inspiration for their decisions from foreign law?" Justice Kagan responded, "I'm in favor of good ideas coming from wherever you can get them."[26]
It is from Justice Stevens's example of pragmatism that we may classify Justice Kagan's jurisprudence as "pragmatic." Indeed, this was even anticipated by President Barack Obama when he appointed Justice Kagan to the bench. President Obama anticipated her pragmatism based on her experience working for Justice Marshall, explaining that Justice Marshall's "understanding of law, not as an intellectual exercise or words on a page, but as it affects the lives of ordinary people, has animated every step of Elena's career."[29] And while Justice Kagan has taken steps to distance herself from the influence that Justice Marshall may have had on her jurisprudence,[30] she has referred to her former boss as "the world's best storyteller."[31] It would be hard to argue that Kagan's writing style is not attributed to—at least in part—her opportunities to learn from Justice Marshall's prose. After Justice Marshall's death, Justice Kagan wrote a tribute where she recounted Justice Marshall's ability to tell a story with an air of humor and in a way that "transcend[ed] humanity":
The stories were something more than diversions (though, of course, they were that too). They were a way of showing us that, bright young legal whipper-snappers though we were, we did not know everything; indeed, we knew, when it came to matters of real importance, nothing. They were a way of showing us foreign experiences and worlds, and in doing so, of reorienting our perspectives on even what had seemed most familiar. And they served another function as well: they reminded us, as Justice Marshall thought all lawyers (and certainly all judges) should be reminded, that behind law there are stories–stories of people's lives as shaped by law, stories of people's lives as might be changed by law. Justice Marshall had little use for law as abstraction, divorced from social reality . . . ; his stories kept us focused on law as a source of human well-being.[32]
Justice Kagan, like Justice Marshall, regularly draws from common human experiences. When events that may seem unfamiliar are commonplace, she will alert the reader;[33] when legal concepts appear complicated, she uses examples to relate to lay-readers.[34] Further proof of Justice Kagan's pragmatism is not only apparent in her writing but is echoed in how she sees her own legacy. When asked what she would like her legacy to be, she denied having an answer because she thinks having an answer would deprive her of the ability to take one case at a time and to come to the right answer on that case, at that time, in that moment.[35]
If informed public debate is central to the democratic process—which both Justices Kagan and Stevens believe—then an accessible Supreme Court opinion, regardless of the content, plays an essential role in supporting democracy simply by granting the general public access to easily-understood legal material. Justice Kagan's jurisprudence is no doubt marked by her understanding and adopting of this idea. Her colloquial approach to opinion writing is heavily informed by her experience in academia—which is immediately apparent after watching the ease in which she addresses a classroom for the first time in years during her visit to Colorado Law. Prior to her Supreme Court appointment, Justice Kagan was a law professor for about eight years before she became the dean of Harvard Law School.[41] As (the first female) dean, Justice Kagan was known for dramatically increasing the pro-bono and clinical work required for students and bringing all sides to the table in a fractious faculty and student body.[42] Her writing resembles her time in academia—it ensures a broad range of people can understand why a decision is being made, requires human interaction and participation, and speaks in a way that a reader new to the law can understand. Her writing stands out because of "her insistence on prompting the reader to play an active role in reading the text,"[43] allowing the public to participate in the robust debate that she finds so critical to the democratic process. Laura Krugman Ray, Professor of Law at Widener University, argues that Justice Kagan's writing not only makes opinions accessible, but demonstrates that Justice Kagan believes "legal doctrine should, at its core, be grounded in the texture of common experience and understandable through the same lens that non-lawyers use to assess questions of responsibility and fairness."[44]
A unique role that Justice Kagan's pragmatic jurisprudence plays is in the ability to not only contour the law to the facts of a case, but to pull the reader into the writing so that they, too, can interact with the law. Justice Kagan consistently highlights "common experience over legal expertise," and uses those experiences as an "interpretive tool."[45] Examples of this can be found throughout her dissent in Rucho: she clearly lays out the questions she is addressing ("Now back to the question I asked before: Is that how American democracy is supposed to work? I have yet to meet the person who thinks so."); uses language to invite the reader into the discussion ("Indeed, the majority concedes (really, how could it not?) . . . " ); and she takes advantage of the permission granted to do so in a dissent, her language also entertains the reader ("What was possible with paper and pen—or even with Windows 95—doesn't hold a candle (or an LED bulb?) to what will become possible with developments like machine learning. And someplace along this road, 'we the people' become sovereign no longer.").[46]
Furthermore, Justice Kagan's style is also developed by how she comes to understand the case material herself. She has expressed that she uses the opinion writing process to understand the material.[49] In discussing her approach to writing, she said "I don't really feel as though I understand something until I write my way through it . . . Writing a draft [of an opinion] on my own is the only way I can feel confident that I got it right."[50]
Pragmatism contributes to a jurisprudence that comports with an ideal vision of democracy. It is arguably because of their shared commitment to learning and their pragmatic understanding of the law that makes Justices Kagan and Stevens most emboldened when discussing the Court's role in upholding the democratic process and fostering "robust" democratic debate. But beyond that, it is this quality in a judge that leads to a jurisprudence that envisions "we the people" as sovereign and self-governing. The resulting opinions of this philosophy consider the common-sense implications of the law and read in a way that allows those affected by the law to understand how the decisions were made.
The First Amendment and Fostering Democratic Discourse
Despite only primarily writing concurrences or dissents in First Amendment cases, Justice Kagan has clearly explained her theory on the First Amendment: "The First Amendment's core purpose is to foster a healthy, vibrant political system full of robust discussion and debate."[54] The October 2019 term presented Justice Kagan with the first opportunity to write a majority opinion on a free expression issue, and she approached the issue with the same First Amendment jurisprudence expressed in her prior dissents. In striking down the government's prohibition on "immoral or scandalous" trademarks,[55] she confirmed that "ideas that offend," are still ideas that are our Constitution entitles to be expressed.[56]
The principled belief that democracy is premised on equalizing people's ability to use their voice—regardless of what they are saying—is demonstrated in both Justices Kagan and Stevens's First Amendment jurisprudence. Such a jurisprudence falls under what scholars would identify as affirmative First Amendment theory.[57] This consequentialist theory, largely accredited to the philosophy of Alexander Meiklejohn, focuses on "how the First Amendment can best be used to effectuate democratic self-governance" and "values promoting greater participation in the self-governing process."[58] Ideally, applying this theory to First Amendment cases pertaining to the democratic process results in an "increased participation of a diverse group of voices."[59] Both Justices Kagan and Stevens deem nurturing this marketplace of ideas as essential to our democracy.
Justice Steven's 35 years of writings demonstrate his belief that "the First Amendment must operate to make democratic discourse inclusive as to both participants and subject matter in order to ensure robust, well-informed public debate."[60]His jurisprudence in this area recognized that there are "established differences in political and economic" power structures, but believed the First Amendment had a role in preventing those existing power-imbalances from "permeating democratic discourse."[61] A focus on these power imbalances, particularly money as social power, became a cornerstone of his First Amendment jurisprudence.[62]
Upon Justice Stevens departure from the Court, Justice Kagan filled Stevens's seat—literally and figuratively—in continuing to apply this principle to First Amendment cases dealing with the democratic process. A 2011 campaign-finance case serves as an example. In Arizona Free Enterprise Club's Freedom Club PAC v. Bennett, the majority of the Court struck down a state law providing public-financing for political campaigns by matching, dollar-for-dollar, private contributions to opposing candidates.[68] In her dissent, Justice Kagan defined "our country's core values" with the same language used by Justice Stevens: "democratic self-governance" and "'uninhibited, robust, and wide-open' debate."[69] She believed that the majority's decision flew in the face of the First Amendment's underlying purpose and that the Arizona provision "[did] not restrict, but instead subsidize[d], speech," which was consistent with what the Court previously declared: "more speech, not less, is the governing rule."[70] This dissent—reiterating that it should be the people with power in a democracy—sheds significant light on a consistent theme of Justice Kagan's First Amendment jurisprudence: "a robust marketplace of ideas is not one whose essential characteristic is the absence of regulation, but rather one in which as many voices—particularly unconventional voices—are brought into the marketplace as possible."[71] Such a notion fits squarely within affirmative First Amendment theory by reiterating that under the First Amendment, the government's role is ensuring that "everything worth saying shall be said."[72]
Although Justice Kagan's career prior to her Supreme Court appointment provided little evidence of how she would decide on certain issues, she had made a name for herself as somewhat of a First Amendment expert through her scholarly publications. In one of her most influential pieces, Private Speech, Public Purpose: The Role of Government Motive in First Amendment Doctrine, Justice Kagan analyzed the underlying issues of free speech doctrine in major Supreme Court decisions.[73] The piece "argues, basically, that the Supreme Court scrutinizes most closely speech restrictions that carry the most risk of having been enacted to serve improper government motives."[74] In an in-depth analysis of this article prepared for Congress, Legislative Attorney Kathleen Ann Ruane effectively summarized Kagan's theory: "that free speech jurisprudence is an indirect (even unconscious) attempt by the Court to ferret out improper government motives where speech restrictions are at issue. In this way, [Justice Kagan] explains seeming inconsistencies in First Amendment law."[75] Justice Kagan identifies the Court's "basic inquiry into whether hostility towards particular ideas" as "whether the government would have treated identically ideas with which it disagreed, ideas with which it agreed, and ideas to which it was indifferent, to the extent that those ideas caused the same harms."[76]
The theory explained in her article—"the motive-based theory of First Amendment doctrine"—can be seen in many of Justice Kagan's opinions and dissents, and aligns closely with the affirmative First Amendment jurisprudence that has dominated her democratic-process writings while on the Court. Justices Kagan's proposed test for evaluating political gerrymandering focuses on the clear intent of the politicians making the decisions: What was the state officials' "predominant purpose" in drawing district lines? Was there "a legitimate, non-partisan justification" for the drawn map?[85] If the desire to draw lines to keep one's own party in power is deemed an improper motive—which Justice Kagan whole-heartedly believes—then the motive-based theory of First Amendment doctrine can be understood as the grounds for how she would have decided Rucho. The motive surely lays the groundwork for how Justice Kagan—in writing for the majority—explains the decisions to strike down a gerrymander in Cooper v. Harris: "This case turned not on the possibility of creating more optimally constructed districts, but on direct evidence of the General Assembly's intent in creating the actual District 12 . . . . [where] North Carolina has made no attempt to justify race-based districting there.[86]
Although Justice Kagan clearly believes there to be a distinction between racial and political gerrymandering,[91] she seems to agree with Justice Stevens that some level of gerrymandering must be tolerated and the Court must step in where legislative bodies cross the line. In addressing racial gerrymanders in Cooper v. Harris, Kagan acknowledged Justices Stevens's point that "political and racial reasons are capable of yielding similar oddities in a district's boundaries. . . . because, of course, 'racial identification is highly correlated with political affiliation.'"[92] What distinguishes her approach, however, is that she still believes that it is necessary to evaluate the intent of the legislators "to assess whether the plaintiffs have managed to disentangle race from politics and prove that the former drove a district's lines."[93] This distinction perplexed Justice Stevens, and created a line which he believed to be artificial. Both justices, though, seem to grapple with the same balance: (1) a constitutional requirement that all groups have proportional representation would be "unworkable,"[94] but (2) if the redistricting results in a "grotesquely gerrymandered map" [95] that is "explicable only by reference to a purpose to segregate or to disadvantage a definable group,"[96] then the plan may be open for attack.
The affirmative First Amendment theory followed by both justices focuses on the public as a listener and as the recipient of information, and thus it is the public who is best equipped to rationally deliberate the information they are receiving.[99] At the other end of that, then, are the institutions equipped with ensuring that "everything worth saying shall be said."[100] Citing Justice Stevens's majority opinion in Anderson v. Celebrezze, Justice Kagan has reiterated that gerrymanders deprive voters "of their natural political strength,"[101] which logically results in some voters—usually in a minority group—unable to voice what they have to say, regardless of whether it was worth saying. As a result, Justice Kagan recognizes that a significant part of her role on the Court is limiting the mechanisms that deprive the public of their Constitutional right to an equal voice in the marketplace of ideas. Thus, Justice Kagan's understanding of her own part in the system also contributes to jurisprudence on the democratic process.
Balance in Our Democratic System: Understanding the Role of the Justice
In Justice Kagan's discussion with a legislation and regulation class at Colorado Law, during her visit for the Stevens Lecture, a student asked the justice if she was concerned about the way the Constitution allocates power and how that will play out with our country's population trends.[102] She was quick to respond: "That's not my job."[103] Justice Kagan has consistently emphasized that justices "shouldn't and don't get to" opine on lots of real issues about the way the constitution works.[104] As an example, she pointed to a possible change in the electoral college. Such a change, she said, would require amending the Constitution—something the courts cannot do:
Courts can't say this is too hard, we'll do it ourselves. The only way the system works is if you know your own role and stick to it. The Constitution gives me important things to do, and enough things to do. I don't take advantage of the fact that people know me and I have legitimacy to go beyond my role. If there's one thing I have to know to do my job well it's the limits of my role, and to stay within those bounds.[105]
Further embodying the principle that our Constitution was intended to allow for robust debate, Justices Kagan and Stevens demonstrate a genuine understanding of the limits of their roles on the Court. This is seen both in the deference they give to other branches of government and in the way they look at the Constitution. At the crux of their dissents in Rucho and Citizens United is the idea that the government and the courts have a major role in inhibiting arrangements that incentivize politicians to take actions that counter the desires of their constituents.[106] Such arrangements, they have stated, destroys faith in our democracy.
While at Colorado Law, Justice Kagan acknowledged that despite the fact that she "was definitely right" in her Rucho dissent, and the issue was crucially important in upholding tenets of democracy, she admitted that she could "see the arguments on the other side" as it pertained to the judiciary's role.[107] "What the chief justice said," she noted, "deserves to be taken very seriously."[108] Her dissent says as much:
I'll give the majority this one—and important—thing: It identifies some dangers everyone should want to avoid. Judges should not be apportioning political power based on their own vision of electoral fairness, whether proportional representation or any other. And judges should not be striking down maps left, right, and center, on the view that every smidgen of politics is a smidgen too much. Respect for state legislative processes—and restraint in the exercise of judicial authority—counsels intervention in only egregious cases.[109]
The differences in opinion in Rucho, though, was that Justice Kagan believed the case was egregious enough to warrant judicial action.[110] The "vision of electoral fairness" to which the district courts relied and Justice Kagan's dissent responded was not developed by "gaz[ing] into crystal balls."[111] Rather, it was based on data and statistics-driven evidence, "[k]nowledge-based, one might say," that showed the politicians' drew districts to dilute the votes of citizens and to entrench themselves in power.[112] The lower courts, then, based their opinions on the data and statistical evidence, not just on their vision for how political power should be allocated.[113] Justice Kagan's dissent blasted the majority for "refus[ing] to remedy a constitutional violation because it th[ought] the task beyond judicial capabilities."[114]
Although Justice Kagan acknowledged that judges should "not become omnipresent players in the political process,"[123] and decried the use of "any judge-made conception of electoral fairness,"[124] the fear of that hypothetical occurrence should not prevent the Court from intervening "in the worst-of-the-worst cases of democratic subversion."[125] Checking gerrymanders like the ones at issue in Rucho, Justice Kagan posited, "is not beyond the courts," as "courts across the country . . . have coalesced around manageable judicial standards to resolve partisan-gerrymandering claims."[126] Of particular concern in Rucho was that the politicians' incentives clearly conflicted with interests of their voters, as the harms arose from the politicians' desires to remain in office.[127] Where such a conflict exists, "the need for judicial review is at its most urgent" because "no one can look to [the legislators] for effective relief."[128]
An understanding of a jurist's role on the Court plays out in one of two ways: what the job is and how it is achieved. First, a justice's role and amount of power is delineated by how they see their relationship to the other branches of the government. The next section outlines how Justice Kagan has proven herself as largely deferential to the legislative and executive branches, and how that creates the lens through which she sees her own role. Second, the way a justice believes the Constitution was intended to be interpreted will affect how they do their job. Living constitutionalism, as described in the following section, largely defines Justices Kagan and Stevens's jurisprudence and vision for the democratic government intended by the Constitution.
Deference to other branches
Kagan's take on the administrative state can be summarized as one of respectful deference.[129] In alignment with her philosophy on the First Amendment's role, she postulates that modern government is not possible without a substantial amount of delegation.[130] When Congress decides it needs to act on a particular issue, it has two choices: (1) it can "do every iota" of the work itself, or (2) it can set principles and guidelines and then let the experts fill in the gaps.[131] Justice Kagan told students at Colorado Law that she believes that Congress most often selects option number two because it is more practical.[132] "Basically," she said, "delegation is inevitable, and once you say it is inevitable, the question of how to apply the non-delegation doctrine is where to draw the line. Who would you rather have draw that line?"[133] How much is "too much" is an issue that can be defined by Congress itself, and therefore it does not require the courts to make that decision. Justice Kagan emphasized that it is largely a matter of "feel" and common sense—and when the issue is dealing with a particular area of legislation, why should the Court think it could do better than Congress in deciding what is appropriate? "A lot of administrative law is letting everyone do what they're good at."[134]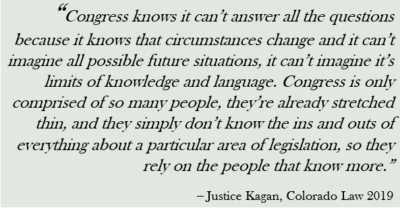 Justice Kagan has also made clear her view on the executive branch, as her pre-Supreme Court experience in the federal government led to her writing an article on the position and power of the President of the United States.[139] In Presidential Administration, writing as a former Deputy Assistant in the White House, Justice Kagan argued that "enhanced presidential control over [executive agencies] can serve pro-regulatory objectives."[140] The article defines administrative law as "as a set of rules for allocating control over agency action to diverse individuals and institutions."[141] Justice Kagan concluded that article by proposing ways the courts may support the presidential administrative state, through modifications to the non-delegation and judicial review doctrines.[142] She advocates for a body of doctrine that "grant[s] preferred status to administrative action infused in the appropriate way with presidential authority, and thereby promoting this kind of presidential involvement."[143]
And despite the particularly polarized climate of 2019, where executive powers have seemingly increased, "[she] do[es] not think that the Court should define its own role based on the fluctuations of what happens in the executive [branch] and legislature."[144] During the Stevens Lecture at Colorado Law, a student asked Justice Kagan: "Have you seen the role and the composition of the judicial branch change at all in response to changes in the executive and legislative landscape? Are you concerned at all about a more contentious legislature and a stronger executive, and the effects of those pressuring the court further into the political thicket that Justice Frankfurter predicted?"[145] In alignment with her judicial opinions, Justice Kagan's response underscored the importance of the Court staying in their lane and explained that the court should not "become less aggressive or more aggressive based on what happens to be happening at the moment in the political process."[146] Her pragmatism remains, however, as she admits "that over long stretches of time the political developments in what's happening around us [ ] affect[s] what the Court does."[147] But, she added, she "also think[s] it's important for the public to recognize that we actually are a different kind of institution from . . . our buddies across the street."[148]
Although, when talking about the Court's independence from other branches, Justice Kagan shared that when it comes to "hot button issues in society," reaching a consensus goes beyond compromise and efforts to avoid polarization.[149] What it really comes down to, she said, "is a matter of different ways of looking at the Constitution."[150]
Constitutional Interpretation

Despite the appearance of partisan voting on the Court, Justice Kagan reiterated at the Stevens Lecture that it has less to do with politicization and more with different methods of constitutional interpretation.[151] Justice Kagan emphatically admits that she is not an originalist, and associates herself "more with looking at the broad sweep of American history."[152] This is because she feels that first and foremost it is too difficult—if not impossible—to figure out what the words in the Constitution meant when the provisions were written.[153] But more importantly, she is committed to the belief that the Constitution is not meant to be frozen at a specific moment in time.[154] In other words, she subscribes to what is often referred to as "living constitutionalism." In defining this view, Justice Kagan explained that the Framers "knew that the world would grow and develop, and the world in 2016 [would not be what the world was] in 1868 or 1780, so they wrote the Constitution [in a way that could be] a growing document—in part—[so] it can apply to different times and different situations and different understandings and sentiments among the American
people."[155] She adds, though, that this version of Constitutional interpretation does not mean "it's all up for grabs."[156] She believes that you take the words of the Constitution and frame them in a way that incrementally responds to changes happening in society.[157] By allowing the interpretation of the Constitution to shift, Justice Kagan posits "the document could be relevant and meaningful in a different time than the original founders."[158] She identified an example of this in Rucho:
Yes, partisan gerrymandering goes back to the Republic's earliest days. . . . But big data and modern technology . . . make today's gerrymandering altogether different from the crude linedrawing [sic] of the past. … Mapmakers now have access to more granular data about party preference and voting behavior than ever before. . . . advancements in computing technology have enabled mapmakers to put that information to use with unprecedented efficiency and precision. While bygone mapmakers may have drafted three or four alternative districting plans, today's mapmakers can generate thousands of possibilities at the touch of a key—and then choose the one giving their party maximum advantage.[159]
Of all the ways Justice Kagan's commentary on constitutional interpretation could be summarized, perhaps there is no better way to capture it than with the words of Justice Stevens himself:
My point is not to criticize judges' use of history in general or to suggest that it always generates indeterminate answers; . . . historical study can discipline as well as enrich substantive due process analysis. My point is simply that [originalism], which holds out objectivity and restraint as its cardinal—and, it seems, only—virtues, is unsatisfying on its own terms. For a limitless number of subjective judgments may be smuggled into [originalists'] historical analysis. Worse, they may be buried in the analysis. At least with my approach, the judge's cards are laid on the table for all to see, and to critique. . . .

My method seeks to synthesize dozens of cases on which the American people have relied for decades. [Originalism] seeks to vaporize them. So I am left to wonder, which of us is more faithful to this Nation's constitutional history? And which of us is more faithful to the values and commitments of the American people, as they stand today? In 1967, when the Court held in Loving that adults have a liberty-based as well as equality-based right to wed persons of another race, interracial marriage was hardly "deeply rooted" in American tradition. Racial segregation and subordination were deeply rooted. The Court's substantive due process holding was nonetheless correct—and we should be wary of any interpretive theory that implies, emphatically, that it was not. . . .

The concern runs still deeper. Not only can historical views be less than completely clear or informative, but they can also be wrong. Some notions that many Americans deeply believed to be true, at one time, turned out not to be true. Some practices that many Americans believed to be consistent with the Constitution's guarantees of liberty and equality, at one time, turned out to be inconsistent with them. The fact that we have a written Constitution does not consign this Nation to a static legal existence. Although we should always "pa[y] a decent regard to the opinions of former times," it is "not the glory of the people of America" to have "suffered a blind veneration for antiquity." The Federalist No. 14, pp. 99, 104 (C. Rossiter ed. 1961) (J. Madison). It is not the role of federal judges to be amateur historians. . . .

As for "the democratic process," a method that looks exclusively to history can easily do more harm than good. . . . The net result of [an originalist and] supposedly objective analysis is to vest federal judges . . . with unprecedented lawmaking powers in an area in which they have no special qualifications, and in which the give-and-take of the political process has functioned effectively for decades. Why this "intrudes much less upon the democratic process," than an approach that would defer to the democratic process . . . is, to say the least, not self-evident.[167]
A jurisprudence of constitutional interpretation that remains frozen in the past is contrary to the democratic process Justices Kagan and Stevens envision: one that evolves with the voices of its constituents, that adjusts to account for unanticipated power imbalances and personal experiences, and importantly, that grants a level of autonomy to the people. Although Justice Kagan may not succeed in persuading her originalist colleagues that living constitutionalism better accounts for the democracy the Framers intended, she often relies on another principal to build consensus among them.
Deliberative Democracy: Building Consensus and The Narrow Decision
Justice Kagan made clear to the audience of the Stevens Lecture that she "definitely do[es] not think compromise is a dirty word."[168] "It's really important," she continued, "to try to reach across perceived divisions and see if you can't find any common ground . . . [or] room for compromise. I like to think it's something I do quite a lot."[169]
A true commitment to robust debate as a foundation for our democracy is not just seen in Justices Kagan and Stevens's output from the Court, but in the deliberation used to arrive at those decisions. Deliberative democracy is an approach to decision-making that involves a form of listening and speaking to arrive at a decision in a way that considers the experiences, values, and the collective, informed-consent of all participants.[170] Genuine deliberative democracy requires public incorporation into the decision-making process, treating people as "autonomous agents who take part in the governance of their own society, directly or through their representatives."[171] It also requires participants in the dialogue to be on equal footing, with all participants open to learning from the ideas, facts, and arguments put forward by colleagues with differing views.[172] Perhaps most importantly, deliberative democracy requires reasoned justifications for decisions in a way that is "both procedurally and substantively accessible."[173] "To this extent, the proffered explanation—as well as the public record of the decision-making process—should not be crouched in language that is impossible for the general public to understand."[174]
Many scholars point to the Supreme Court in general as an example of how deliberative democracy should function, although history has shown that justices are not always engaging in the "reasoned intellectual exchanges" that are ideal.[175] At the very least, Justices Kagan and Stevens are and have engaged in a kind of "give and take" that may qualify their engagement with others on the bench as a form of deliberative dialogue.[176] It is clear—through their writings and their discussion with the public—that they at least attempt to follow a practice that qualifies as deliberative democracy. First, they are both open to learning from their colleagues, and as discussed below, are more likely than many of their colleagues on the Court to compromise with justices that hold opposing views. Second, they view the public as an autonomous agent that should be involved in the process—albeit in a limited way—and understand that they are "not merely objects of legislation."[177] Last, as discussed above, they provide transparency into their justification, both by allowing the public to understand why they agree—or more often in this context, disagree—and by explaining the result in an easy-to-digest format.[178]
One illustration of Justices Kagan and Stevens's adherence to the deliberative-democratic practice is their use of the narrow decision. Justice Kagan has taken several opportunities to emphasize the importance of narrow decisions in finding consensus,[182] and her work demonstrates that she takes that commitment seriously. While she believes that at times consensus can be achieved by continuing to debate the same question, more often, to reach consensus, "the key is to adjust the frame a little bit" to find a place where more can agree.[183] In 2019, even Justice Kavanaugh voted with Justice Kagan as often as he did with Justice Gorsuch, his fellow Trump appointee.[184]
Justice Kagan's success in limiting the reach of certain Constitutional issues is not always seen in the cases for which she joins the majority. She has found success in limiting the holdings of issues that she may be in the minority on. Kate Shaw, a professor at the Cardozo School of Law, co-host of the podcast "Strict Scrutiny," and—relevantly—a former clerk to Justice Stevens, has compared Justice Kagan to Justice Stevens and credited her with ensuring that the opinion upholding the travel ban in Hawaii v. Trump "didn't completely shut the door to a President's statements being potentially relevant in a case like this."[185] Justice Kagan's questioning in oral argument was the catalyst that led the Solicitor General to make some concessions.[186] As a result, Chief Justice Roberts seemingly relied on those concessions in writing for the majority, narrowing the opinion.[187] Shaw believes that these efforts by Justice Kagan are a part of her strategic ability to contemplate the future and shape the law.[188] These types of efforts might not make the type of progressive gains that other justices have made, but her steady methodology may prove successful in conserving those gains in the long run. Her small win in Hawaii, for example, preserved "the ability of lower courts to perhaps consider the President's statements in future cases."[189]
Justice Kagan also uses her dissents to keep opinions narrow. Constitutional scholar Erwin Chemerinsky believes that Justice Kagan's efforts to narrow the grounds in conservative opinions is part of a larger strategy to achieve as much as she can when the opportunities arise.[190] When she cannot make gains—either by keeping a majority opinion narrow or winning over a justice to join a majority—she will dissent. And because she so rarely dissents (Justice Kagan wrote only three dissents in the 2018 term, as opposed to Breyer's ten, and Gorsuch's eleven), those statements carry more weight.[191]
This strategic jurisprudence has landed Justice Kagan in the majority with her more conservative colleagues where much of the public would have expected, or hoped, to see otherwise. Only twenty-five percent of Kagan's opinions garnered a 9-0 majority in the 2018 term (only Chief Justice Roberts had less), but thirty-eight percent were 5-4.[198] Although at first glance that may seem to support an inference that she was unsuccessful in winning over her colleagues, it more so demonstrates that she is successful in navigating the politics of the court to garner a majority where she otherwise would dissent. In fact, Justice Kagan has consistently aligned with the majority more than any other justice on the current Court, aside from Chief Justice Roberts, since 2011.[199]
Justice Kagan's commitment to deliberative democracy is apparent from early on in the judicial process. Justice Kagan has told the public that what they observe in oral argument is not always as straightforward as a question-answer session with the attorneys, but rather the beginnings of the deliberative process with others on the bench.[200] In that sense, oral arguments also serve as a major part of the deliberative-democracy practice in that it allows for public participation (or, at least, observation) and provides transparency. And given that Justice Kagan is quite vocal in argument (she speaks more than all justices except Justice Sotomayor), she provides the (second-to-) most access and transparency into her deliberation process.
Notwithstanding different approaches to achieve the same goal, both Justices Kagan and Stevens have made efforts to exemplify the type of democracy they envision more broadly in the country. They have sought to listen to and understand opposing perspectives, find common ground, and take the time provide reasoned justifications for their perspectives. But, as Justice Kagan shared at the Stevens Lecture, "to try to reach consensus, more than one person has to do it, so sometimes it's not your choice."[205]
Conclusion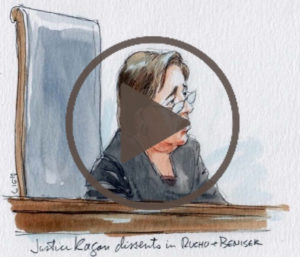 On June 27, 2019, when Justice Elena Kagan dissented from the bench in Rucho v. Common Cause, she called upon her colleagues, the press, and—most importantly—the people of the nation, to ask themselves one question when thinking about the majority's refusal to act on partisan gerrymandering: "Is this how American democracy is supposed to work?"[206] The answer to that question was given nine-years earlier when Kagan's predecessor, Justice John Paul Stevens, read from the bench in Citizens United v. Federal Elections Commission.[207] The answer was, and is, a resounding no.
As of May 2019, Justice Stevens "remain[ed] of the view that the Court [had still] not fully recovered from the damage it inflicted on itself" by deciding such a political question in Bush v. Gore." [208] If that opinion sent a message to the public that their vote did not matter, their faith was certainly not restored by the Court's decision in Citizens United, "because in a functioning democracy the public must have faith that its representatives owe their positions to the people, not to the corporations with the deepest pockets."[209] And in 2019, echoing from the same seat from which Justice Stevens warned the world about the corruption that would be unleashed by Citizens United, Justice Kagan regretfully opined that the Court, yet again, had refused to act where democracy had been subverted, where politicians "had beat democracy," where our system of government was imperiled.[210] In a political environment where the public is heeding these warnings on a regular basis, Justice Kagan's dissent in Rucho has deeply resonated with much of the nation, and has become an opinion of which she is particularly proud.[211]
Regardless of the direction in which the Court moves,[212] Justice Kagan's demonstrated commitment to justice through the democratic process and integrity on the Court has helped the public to maintain their faith in the Court as a non-partisan entity. She has shown that her jurisprudence is one that values the voice of the people as the cornerstone of democracy, and she has indeed used hers in advocating for a fair democratic process. Justice Stevens, in his final dissent from the bench, exclaimed that his version of constitutional interpretation "has the capacity to improve, rather than "[im]peril," our democracy. It all depends on judges' exercising careful, reasoned judgment. As it always has, and as it always will."[213] Sworn in just 40 days later, Justice Kagan took the seat from which Justice Stevens made that proclamation. In her nine years on the bench, she has followed through on a commitment Stevens had made more than 35 years prior, a commitment to carefully uphold a Constitution that necessitates a diverse set of voices participating equally in the nation's democratic processes.
Footnotes: